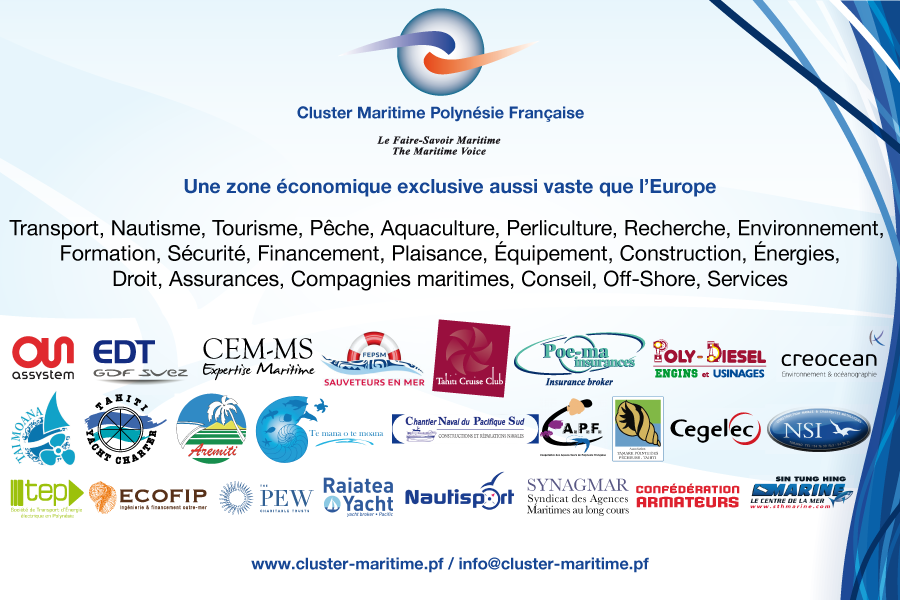 The CMPF [www.cluster-maritime.pf], founded in Papeete in 2014, brings together stakeholders in the maritime economy from each region to work in a cross-cutting manner on development projects, in conjunction with Polynesian, French and European institutions. Archipelagoes played an active role in the foundation of the CMPF, and works to support its development and organize its activities, providing a coordination role for the Maritime Cluster. It also provides a management role for the Maritime Cluster of New Caledonia (CMNC).
Development plan:
Global vision for the maritime economy;
Renewal of operating fleets;
Port authorities at country level;
Management of shared spaces and resources;
Nautical and maritime infrastructure;
Fund raising and investments;
Ongoing regulatory adaptation;
Energy, research and studies;
Lobbying, communication and promotion;
Initial and further training;
Organization of sectoral and inter-professional events and forums.
Events:
Nautical Occupations Forum / Nautica Porinetia Trade Show, Papeete;
Student-Business Forum, Papeete;
Sea Conference, Papeete;
Maritime Economy Conference, Nantes.